DIGITAL POSITION INDICATORS: SPECIFYING AND ORDERING DATA
Basic type-codes: ALPHA NUMERIC INDICATORS IAP-3D
ALPHA NUMERIC WITH EXTRA CURRENT OUTPUT IAPSC-3D
NUMERIC INDICATORS IDP-2D
NUMERIC WITH EXTRA CURRENT OUTPUT IDPSC-2D
1) INTRODUCTION
The distant position indication is a frequent need, in practice. This leaflet is adressed to power transformer engineers, specially when OLTC's are concerned. The contents, however, would be usefull in all areas where position indication is important (elevators, floodgates, etc.).
Electrical power transformers and regulators equipped with on load tap changers need local and/or distant indication of the operating position given by the OLTC.
LOEFER's digital position indicators provide local and/or distant identification of such positions, comprising not only straight numerical ranges such as 01......99 or double sided numerical ranges such as
-NN....-01, 00, +01....+NN, but also (when needed) letters added to the central positions such as 01, 02...09A, 09b, 09C...16, 17, for instance, meaning alpha-numeric ranges.
The indication occurs in a bright red 13mm led display located in the front of the apparatus.
2) AVAIABLE VERSIONS
Due to extreme operating and design differences, this leaflet will not describe digital position indicators fed by diode matrix. Please refer to our Diode Matrix. The three above mentioned types are avaiable in two basic alternatives:
2.1) Resistance Input.
2.1.1)WITHOUT EXTRA CURRENT OUTPUT. Terminals 4, 5 and 6 (figure-1) are directly connected to OLTC's resistive divider, where ohmic changes caused by tap changing are adequately transferred as a signal for the correct display indication. This alternative should be specified when single local or distant indication is required.
2.1.2)WITH EXTRA CURRENT OUTPUT. Two new terminals (7 and 8) are added, see fig-2, which provide the mentioned current output, and also shows that the way of connecting this position indicator to the resistive divider is different from the one seen in figure-1
Indicators with extra current output are subjected to serious damages in case operation occurs with broken or disconnected wiring on terminals 4, 5 and 6.
This situation is equivalent to a very large increase in the divider's ohmic value. The following consequences are expected:
- Output current rises to values far beyond the usual operating maximum. The display and devices connected to terminals 7-8 will probably be damaged.
-Internal overvoltages will mean damage risk for many components.
Under request, these indicators may be supplied in the "DB" version (Down-Scale Burnout) as described in our TDPdb Series Transducers
This kind of indicator should be specified when local indication is needed and and there is not enough place for a position resistance transmitter. The current signal, however is essential for a distant indicator and/or other indication or control devices.
2.2)CURRENT INPUT: Terminal 4 looses its electrical function and terminals 5 and 6 are fed by a resistance transmitter delivering a DC current signal which is proportional to the ohmic changes in the divider.
This current signal is the information needed for a correct display indication (see Fig-3)
This version should be specified when:
-Current signal has to be externally avaiable for other control or signal devices.
-Both local and distant indication are needed (see fig. 4)
3)POWER SUPPLY.

(All versions include galvanic insulation from feeding source)
Both AC or DC feedings are deliverable.
AC preferred rated voltages: 110, 115, 127 and 220V +10%, 50 or 60 Hz.
DC preferred range: 12 to 150 V.
Other voltages under request.



FIGURE 1: RESISTANCE INPUT
BACK
WARNING! Batteries are often not avaiable during preliminary tests on indicators foreseen for DC feeding. In such occasions, it must be assured that the alternative DC source has max. 10% ripple in its output voltage. Otherwise, the indicator will be subjected to serious damage risks.
Note: Also under request, the POSITION INDICATORS may be supplied with an enclosed Switch Mode Power Supply taking automatically AC and DC feedings from 9O to 250 V.
From the electrical point of view, the equipment was specifically designed to face the most severe voltage and impulse surges frequently occuring in auxialiary voltage lines running through large substations or power plants.
This protection has been accomplished through varistors, most of them connected between active terminals and terminal 3 (ground).
This means that, during applied voltage tests, either in a single indicator, or in a complete panel, terminal 3 must remain ungrounded.
FIGURE 2: EXTRA CURRENT OUTPUT
BACK
4)MECHANICAL FEATURES.
The equipment is avaiable either:
4.1)In a 90x90x185 mm steel case protected by an electrostatic dark-grey painting. For overall dimensions and suggested panel cutout, refer to fig. 5. The front panel is a 3 mm anodized aluminium plate containing a 70x30 mm red acrilic window. Mounting occurs through two threaded rods pressing the device against the customers panel.



FIGURE 3: CURRENT INPUT
Voltar
4.2)Or in a 90x90x137 mm black ABS plastic casing, as seen in fig. 6. The front panel is an all acrilic red plate. Mounting occurs through side-mounted plastic clamps, as shown.

FIGURE 4: LOCAL AND DISTANT INDICATION
BACK
5)INDICATION POSSIBILITIES

The IDP-2D will indicate any position numbers from 00 to 99, preceeded, IF NECESSARY, by the signs (+) or (-).
The IAP-3D types are further able to indicate letters A, b , C or d, when necessary.





DIMENSIONAL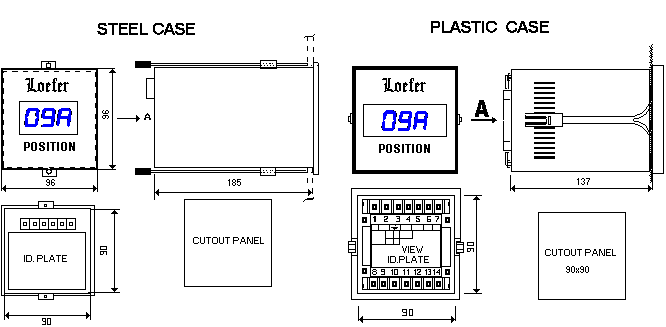 BACK
FIGURA 5

6)THE EXTRA CURRENT SIGNAL OUTPUT

Indicators provided with extra current signal output, called IDPSC-2D or IAPSC-3D should preferably be specified with the following output current ranges: 0-1, 0 - 5, 0 - 10 or 4 - 20 mA. Other output current ranges might be considered under request.

The acceptable load on terminals 7 and 8 is given by the output current ranges, as shown below:


OUTPUT CURRENT RANGE
Range in (mA)

Load in ( Ohms )

0

a

1

10.000

0

a

5

2.000

0

a

10

1.000

0

a

20

1.000
7)REQUIREMENTS FOR INPUT SIGNAL

7.1)RESISTANCE INPUT
The IDP-2D and the IAP-3D digital indicators and their corresponding IDPSC-2D and IAPSC-3D types will accept any usual OLTC resistive divider, as long as the individual resistors range from 5 to 20 ohms. Other individual ohmic values may be considered under request.

7.2)CURRENT INPUT
Preferred input current ranges: 0-1 mA; 0­5 mA; 0-10 mA and 4-20 mA (DC). Other current ranges may be considered under request.

Note: In connection with the current input, the input impedance of the equipment must be taken into account, in order to avoid exceeding load on the resistance transmitter.


Maximum avaiable values for input impedance (Zi):

Current Range (mA) Zi max. (ohms)







8)ORDERING EXAMPLES

8.1 )Alpha numeric position indicator type IAP-3D/33/17ABC, power supply 220 VAC 6O Hz, input 34x5 ohms, indicating range 01...17A,17B,17C...33.

8.2 ) Alpha numeric position indicator type IAP-3D/21/11ABC, power supply 125 VDC, Input 0-5 mA, Zi = 200 ohms, indicating range 01...11A,11b,11C...21.

8.3 ) Digital position indicator type IDP-2D/17, power supply 200 VAC, 50 Hz, input 16x10 ohms, indicating range 01..........17.

8.4 ) Digital position indicator typeIDP-2D/08, power supply 127 VAC, 60 Hz, input 16x5, indicating range -08....-01, 00, +01....+08,

8.5 ) Digital position indicator with extra current output typeIDPSC-2D/08, power supply 127 VAC, 60 Hz, input 16x5, indicating range - 08....-01, 00, +01....+08, current output 0-10mA, external max. load 150 ohms


9)NOTES


9.1 ) For the applicable items, this equipment complies with

ANSI Standard C39.1.1981.

ANSI Standard C-37.90a-1974

IEC Standard 255-5-1978.


9.2 )The text on the equipment, the technical pamphlets and the routine test reports may be delivered either in portuguese, spanish or english.

9.3 ) The contents of this leaflet are subjected to changes without previous notice.


e-mail: Technical Suport

Loefer do Brasil Ind e Com Ltda

copyrigth 97